Cleansing by Herôme
External factors, such as a harsh climate and cleaning agents, dry out the cuticles and cause chappe…
Learn more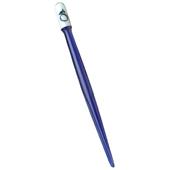 HerômeCleansing Cuticle Pusher
BP: €4.95* / 1 pcs.
HerômeCleansing Cuticle Peeling Gel
BP: €1,295.00* / 1000 ml
5/5 AggregateRating
Cleansing Cuticle by Herôme
External factors, such as a harsh climate and cleaning agents, dry out the cuticles and cause chapped skin to appear around the nails. There is a great temptation to bite off the pieces of skin - after all, nice nails should be surrounded by soft and supple cuticles. In addition, stiff cuticles hinder the natural growth of the nails. A peeling gel or cuticle remover can be used to treat the cuticles and will get rid of dead skin cells and loose particles of skin. This will stimulate the blood flow so that the nail is once again free to grow healthily. The result: beautiful long nails.