Cleansing by Herôme
Anyone who thinks it's important to care for their hands should consider cleansers from HerômeLearn more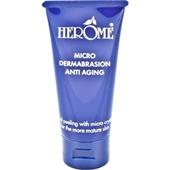 HerômeCleansing Micro Dermabrasion Anti-Aging
€13.84
/ 50 ml
BP: €276.80* / 1000 ml
5/5 AggregateRating
Cleansing Hands by Herôme
Anyone who thinks it's important to care for their hands should consider cleansers from Herôme. Hands are subject to exceptional stress day in day out. Apart from aggressive cleaning agents and fluctuating temperatures, the skin on the hands also has to cope with mechanical stress. The skin can soon become rough and thin: callused and cracked skin is not unusual. These factors cause the skin on the hands to age up to five times more quickly than the skin on the rest of the body. Regular cleansing and care are therefore essential.
High-quality hand care
Anyone who cares about their hands should look to Herôme. The cream contains nourishing oils, sea salt crystals and the refreshing scent of oranges and lemons. The skin and cuticles become soft and supple within seconds of applying this nourishing product. The cream supplies the hands and fingernails with vital vitamins, including vitamin A, C and E. It removes dead skin cells and helps new skin cells to form by stimulating the blood flow. See the amazing results for yourself!