Geste by Humiecki & Graef
The simply titled "Gesture" range from Humiecki & Graef arose from a forbidden love that takes advan…
Learn more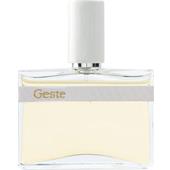 Humiecki & GraefGeste Eau de Toilette Concentrée Spray
BP: €176.00* / 100 ml
Geste Unisex fragrances by Humiecki & Graef
The simply titled "Gesture" range from Humiecki & Graef arose from a forbidden love that takes advantage of this electricity, this fire and this unmistakable intensity and brings it to your skin. As unisex fragrances, these creations from Humiecki & Graef can be efficiently used by men and women to create a pleasant and unmistakable scent on your skin and your clothes, which is perfectly suited to either summer or winter thanks to its pulsating effect. The fresh fragrances comes in a square, transparent flaçon with a white cap. In addition, the flaçon has the name of the range printed on it.
Simple but effective creation, manufactured by experts
Gestures is a range of perfumes that will amaze with their simple composition and yet at the same time high level of effectiveness. The perfume cannot be split into three different layers, or notes, but rather into one simple yet exciting top note. This is made up of just four ingredients: various resins, musk, floral violas and warm ambergris. In combination, each individual essence can play out its full potential, giving rise to a perfume which remains something really unique long after being applied.