Skarb by Humiecki & Graef
Based in Cologne, the Humiecki & Graef label has been enriching the international fragrance and cosm…
Learn more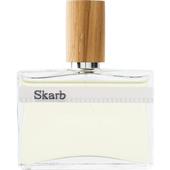 Humiecki & GraefSkarb Eau de Toilette Concentrée Spray
BP: €176.00* / 100 ml
5/5 AggregateRating
Skarb Unisex fragrances by Humiecki & Graef
Based in Cologne, the Humiecki & Graef label has been enriching the international fragrance and cosmetics scene since 2007 and offers exquisite perfume in a variety of product ranges. With Skarb, Humiecki & Graef offers a fresh and lively fragrance that belongs to the company's large selection of exquisite unisex fragrances. In our Online Shop, you will find the extraordinary perfume as an Eau de Toilette Spray, for example, so that you can leave the house every morning with a fresh and clear note and feel good, embraced in a distinctive fragrance.
Skarb - a real treasure for your perfume chest!
Literally translated from Polish, Skarb means treasure. This is exactly what the special perfume from Humiecki & Graef is meant to be, leaving behind a great impression at work or at fancy events with its multi-faceted note. Like all of the manufacturer's unisex fragrances, the fragrance combines essences which will go down well with men and women alike. If you want to dive deep into the world of unisex fragrances from the Cologne-based company, and save money whilst purchasing high-quality perfume, it's worth taking advantage of our multi-faceted Online Shop!