Multiple Rouge by Humiecki & Graef
Unisex fragrances such as the
Multiple Rouge
perfume have cast their spell over thousands of…
Learn more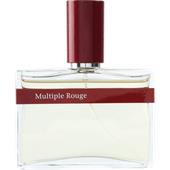 Humiecki & GraefMultiple Rouge Eau de Toilette Concentrée Spray
BP: €176.00* / 100 ml
5/5 AggregateRating
Multiple Rouge Unisex fragrances by Humiecki & Graef
Unisex fragrances such as the Multiple Rouge perfume have cast their spell over thousands of people worldwide. The fragrance comes from Humiecki & Graef. When producing this breathtaking aroma, only high-quality ingredients are used. These have been specially selected so that they create a harmonious composition and complement each other.
Luxury for the everyday
The Multiple Rouge fragrance has a fruity and aromatic base. The breathtaking aromas have been available since 2009. The base of this fragrance is made up of coriander, cinnamon and immortelle. Essences of violas, orange, peach and pineapple create a highly varied character. Viola leaves and red berries break through the fruit aura and give the fragrance an earthy taste.