Black by John Player Special
With the product range
Black
, the international perfume brand John Player Special provides al…
Learn more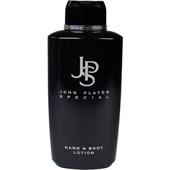 John Player SpecialBlack Hand & Body Lotion
BP: €15.90* / 1000 ml
5/5 AggregateRating
Black Men's fragrances by John Player Special
With the product range Black, the international perfume brand John Player Special provides all men with a dark, herbal character which few of their fragrances have offered. Known for their excellent combinations of perfume and skin care products, with Black John Player Special offers an unusual combination of typical masculine essences which can be worn for everyday or special occasions. This not only goes for classic perfume and Eau de Toilette, but also shower gel and the other forms in which the brand offers their men's fragrances.
Get to know Black and other men's fragrances by John Player Special
The large choice of exciting scents by John Player Special are perfect for all men who love exciting perfume and are always looking for a change. Alongside individual items, the brand offers gift sets which bring pleasure to you and your friends. Naturally, our online shop also offers high quality scents for men and women by other world renowned brands. An attractive price is guaranteed for all of our items to make your choice easier!