Moon Dance by Juliette has a Gun
Moon Dance by Juliette Has A Gun is an homage to the moon and its silver light. This perfume is pres…
Learn more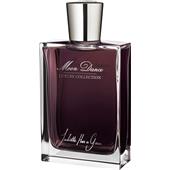 Juliette has a GunMoon Dance Eau de Parfum Spray
BP: €287.93* / 100 ml
Moon Dance Women's fragrances by Juliette has a Gun
Moon Dance by Juliette Has A Gun is an homage to the moon and its silver light. This perfume is presented as a seductive encounter between rose and viola, accompanied by a gentle hint of musk. Skilfully managed, the aromas melt into an irresistible harmony with fascinating richness of facets and animalistic depth. Just like the moon, these women's fragrances also exert a secretive, almost magnetic attraction. Moon Dance plays with opposites and contradictions and melts these together into an absolutely extraordinary fragrance which has seemingly come from a dream.
Women's fragrances - romantic and modern
The Juliette Has a Gun perfume brand first appeared in 2006 and since then has worked its magic in the form of modern, romantic women's fragrance based on rose essences. The valuable essence for the perfumes is gained by distilling rose blossoms freshly plucked every morning. Romano Ricci, the founder of Juliette Has a Gun, has the best facilities at his disposal. He is after all the great-grandson of Nina Ricci, founder of the couture company of the same name, and the grandson of Robert Ricci, the star perfumer who created countless olfactory bestsellers for this company, including the well-known L'Air du Temps. In fact chosen by his grandfather to to take over the company, he decided to reject these plans. He preferred to take his own path into the future and realise his own individual dreams. With the Luxury Collection, which includes the Moon Dance perfume, Romano Ricci has taken particular care to create complete and elegant women's fragrances. Therefore he spared no expenses when selecting the materials used.