Facial care by L'Oréal Paris Men Expert
As men naturally have a special type of skin, they need special cosmetic products for their daily fa…
Learn more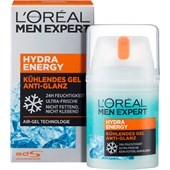 L'Oréal Paris Men ExpertHydra Energy Quenching gel anti-shine
BP: €159.80* / 1000 ml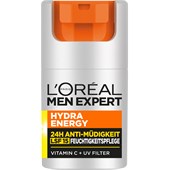 L'Oréal Paris Men ExpertHydra Energy 24h Moisturizer SPF 15
BP: €179.80* / 1000 ml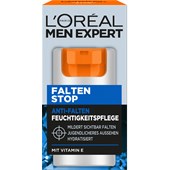 L'Oréal Paris Men ExpertFacial care Wrinkle de-crease moisturiser
BP: €159.80* / 1000 ml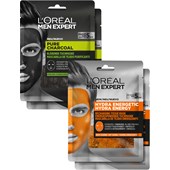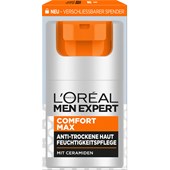 L'Oréal Paris Men ExpertHydra Energy Comfort Max moisturiser
BP: €159.80* / 1000 ml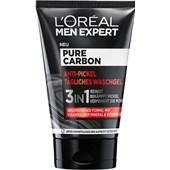 L'Oréal Paris Men ExpertFacial care Anti-Pimple Daily Wash Gel
BP: €49.90* / 1000 ml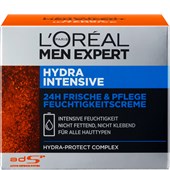 L'Oréal Paris Men ExpertFacial care Hydra Intensive Moisturiser
BP: €159.80* / 1000 ml
4,5/5 AggregateRating
Facial care Skin Care by L'Oréal Paris Men Expert
As men naturally have a special type of skin, they need special cosmetic products for their daily facial skin care. The L'Oréal Paris Men Expert skin care range provides a range of high-quality facial skin care products which are perfectly suited to the special needs of men of every age and every skin type. Depending on the formula, the creams, gels and fluids in the skin care range offer optimal skin protection, sufficient moisture and specifically reduce lines and wrinkles with anti-ageing ingredients.
Optimum facial skin care for every day – Men Expert
With the Men Expert cosmetics range men obtain perfectly cleansed and cared for skin every day. The skin on the face is deeply cleansed with the cleansing products and removed of blackheads, oily skin and blocked pores. The skin care products from L'Oréal Paris supply the cleansed skin with a lot of moisture and fill the reserves and cells with nutrients and vitamins. The result is radiantly fresh facial skin. The skin care range for men by L'Oréal Paris is suitable for dry, normal and sensitive skin, depending on the product.