L'Amour by Lalique
René Lalique, founder of the brand named after him, excelled himself with his skilful jewellery and …
Learn more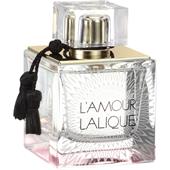 LaliqueL'Amour Eau de Parfum Vaporisateur
€45.00
/ 30 ml
BP: €1,500.00* / 1000 ml
5/5 AggregateRating
L'Amour Women's fragrances by Lalique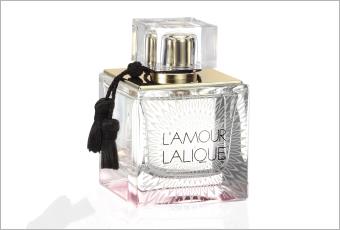 René Lalique, founder of the brand named after him, excelled himself with his skilful jewellery and glass crafts during his lifetime. The L'amour range pays homage to four large palace doors in total that Lalique had designed for a Japanese Prince. While the packaging shimmers pleasantly with its golden colour, the fragrance itself will also beguile you with its crystal flaçon. This flaçon skilfully reflects incident light, creating a stylish shell for the precious essences that transforms into a real eye-catcher in the bathroom. However, the enchanting fragrance also pays homage to women, as they were the ones who inspired the founder of the brand to create his Japanese glass doors.
Women's fragrances in a decorative design
Just like other women's fragrances made by the brand, the L'amour perfume not only hits the spot with its look and flaçon. Vibrant bergamot is skilfully combined in the top note with really delicate rose and neroli. Opulent tuberose encounters other white flowers in the heart of the fragrance, such as gardenia. Jasmine rounds off the heart note, with really delicate cedar wood, paired together with musk, enveloping the top and heart note in a really charming aura.