Total Age Correction by Lancaster
The
Total Age Correction
Care Line is persuasive due to high-quality results. The Lancaster c…
Learn more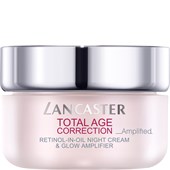 LancasterTotal Age Correction_AmplifiedRetinol-In-Oil Night Cream & Glow Amplifier
€70.95
/ 50 ml
BP: €1,419.00* / 1000 ml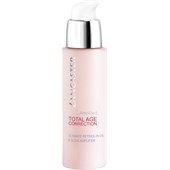 LancasterTotal Age Correction Ultimate Retinol-in-Oil & Glow Amplifier
€50.95
/ 30 ml
BP: €1,698.33* / 1000 ml
LancasterTotal Age Correction_AmplifiedAnti-Aging Rich Day Cream & Glow Amplifier
€65.95
/ 50 ml
BP: €1,319.00* / 1000 ml
LancasterTotal Age Correction Anti-Aging Eye Cream & Glow Amplifier SPF15
€42.95
/ 15 ml
BP: €2,863.33* / 1000 ml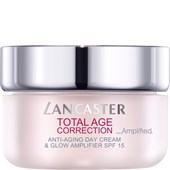 LancasterTotal Age Correction_AmplifiedAnti-Aging Day Cream & Glow Amplifier
€65.95
/ 50 ml
BP: €1,319.00* / 1000 ml
5/5 AggregateRating
Total Age Correction Skin care by Lancaster
The Total Age Correction Care Line is persuasive due to high-quality results. The Lancaster cosmetic items are based on advanced technologies that targetedly combat skin ageing. The exclusive formulas have caused a stir worldwide and won over even critical votes. The special feature of the care cosmetic is the easiness of use and the persuasive results, which can be clearly seen after just a few applications.
High-quality cosmetics for everyday
The Lancaster Total Age CorrectionCare Line contains products with selected ingredients. The mineral pigments are absorbed by the skin and build it up from within. The complexion becomes more regular, smaller wrinkles disappear after just one application. Many of our care products include an additional light protection factor, which prevents any sun-related skin-ageing. Allow yourself to be inspired by a diversity of care products, which will allow your skin to appear more youthful, firm and elastic!