Sun Sensitiv by Lavera
The Sun Sensitiv sun care from Lavera gives you the opportunity
to enjoy the sun without regret, … Learn more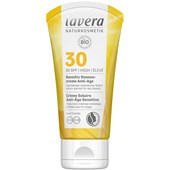 LaveraSun Sensitiv Anti-Age Sun Cream SPF 30
€11.17
/ 50 ml
BP: €223.40* / 1000 ml
4/5 AggregateRating
Sun Sensitiv Sun care by Lavera
The Sun Sensitiv sun care from Lavera gives you the opportunity to enjoy the sun without regret, even if you have sensitive skin. With the products from the range, you can allow your children to have a sunny day at the beach without any nasty consequences or, thanks to a self-tanner, look softly tanned throughout the whole year..
Sun Sensitiv - natural suntanning for sensitive skin
The sun protection offers up to 100% mineral light protection so there is absolutely no need for synthetic UV filters. The Lavera protective products begin to work instantly when applied, are waterproof, and have a caring effect. The SPF 5 Anti-Ageing Milk combines sun protection with the properties of an anti-ageing product for the face, neck, and décolletage for sun care with powerful potential. The Baby/Kids Spray is easy to apply and protects delicate children's skin with SPF 20. After sunbathing, the Apres Sun Gel cools your skin, treats you to lots of moisture, and soothes and strengthens the skin with valuable plant extracts. The Sun Sensitiv self-tanner from Lavera gives you gentle, purely plant-based suntanning. Thanks to the sugar-based tanning agent, it is also well-tolerated by sensitive skin.