Daisy Dream by Marc Jacobs
Marc Jacobs isn't just one of the most famous designers in the world, whose fashions are frequently …
Learn more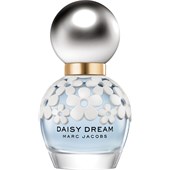 Marc JacobsDaisy Dream Eau de Toilette Spray
€49.95
/ 30 ml
BP: €1,665.00* / 1000 ml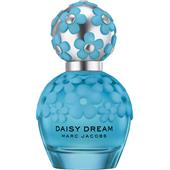 Marc JacobsDaisy DreamForeverEau de Parfum Spray
€75.95
/ 50 ml
BP: €1,519.00* / 1000 ml
4,5/5 AggregateRating
Daisy Dream Women's fragrances by Marc Jacobs
Marc Jacobs isn't just one of the most famous designers in the world, whose fashions are frequently worn on catwalks around the globe; he has also become a renowned great in the fabulous world of fragrances. This is expertly proven once again by the Daisy Dream fragrance range, because this feminine fragrance doesn't just look fairytale-like but also has a completely unique, unmistakably light structure that makes this fragrance an experience for the senses. The women's perfume from this range comes in a round, azure blue bottle, which is completely swathed in beautiful white and gold flowers. The body and lid are coated in a bright silver.
A heavenly fragrance as beautiful as a magnificent dream
The Marc Jacobs women's perfume from this range is available as an Eau de Toilette Spray and is complemented by a shower gel and a body lotion. Both skin care products come in azure blue tubes and visually embody exactly that that sets the products themselves apart. They are very gentle; the body lotion soaks deep into the skin, where it stores moisture and ensures a silky-smooth complexion. The lotion can be applied every day, ideally straight after a relaxing shower. The shower gel, on the other hand, removes dirt and sweat from the skin, and also has a hydrating effect. At the same time, the essences of the shower gel radiate the heavenly chords of the fragrance of Daisy Dream.
Dreams are like bubbles. Not with Marc Jacobs!
The Daisy Dream women's perfume was created by perfumer Alberto Morillas and combines the fruity chords of pear with grapefruit and blackberry in the top note. The middle note uses blue wisteria, light nuances of lychee, and a frame of jasmine, which provides a floral touch. The base note makes use of sweet coconut water, which is perfectly complemented by light woods and musk.