Emblem by Montblanc
The Emblem Homme fragrance range from MontBlanc is a unique product not just because of its appearan…
Learn more
5/5 AggregateRating
Emblem Men's fragrances by Montblanc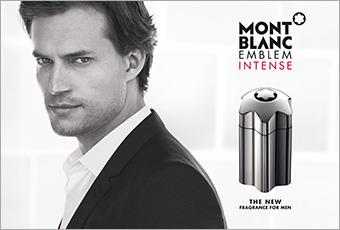 The Emblem Homme fragrance range from MontBlanc is a unique product not just because of its appearance. All products in the range come in a clear and pure black which shines so pleasantly that yet another elegant appearance is created at the same time. The fragrance range comprises a total of four products: an Eau de Toilette Spray, the After Shave Balm, a Shower Gel and finally a Deodorant Stick, with all creations of course coming with the laconic men's fragrances of the Emblem Homme range. The Deodorant Stick bestows maximum protection on men even in stressful situations by skilfully closing pores in the armpits without fully tightening them. It is important from a healthcare point of view that sweat can at least partially escape pores. The men's fragrances from Montblanc in the After Shave Balm bestow upon you a refreshing and skin-calming effect after shaving, whilst the Shower Gel gently cleanses skin of dirt, sweat and other residues, with the pleasant scents remaining on the skin for a long time.
Classically black perfume for demanding men
Beside these three care products, the Emblem Homme range from MontBlanc is of course primarily distinguished by its first-class perfume. The very sleek-looking and yet eerily elegant design highlights the effect of the fragrance: masculine, elegant and absolutely timeless. In the top notes, men's fragrance from the fruity grapefruit, cardamom and clary sage are used, whilst the core note will amaze with cinnamon and viola leaves. In the base notes, you will then find the scents of various woods which are combined with the unique tonka beans. The fragrances come in a square, star-shaped flaçon which carried the typical MontBlanc logo on the top. This creation was designed in 2014 and of course combines all of the range's individual products perfectly to create a uniform and even fragrance composition.