Activation by SBT cell identical care
Activation is a face care range from the SBT Sensitive Biology Therapy cosmetics brand which activat…
Learn more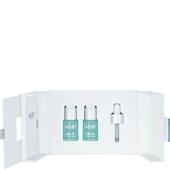 SBT cell identical careActivation CellLife Activation Serum
BP: €3,396.67* / 1000 ml
5/5 AggregateRating
Activation Facial care by SBT cell identical care
Activation is a face care range from the SBT Sensitive Biology Therapy cosmetics brand which activates skin's biological functions and gives it new liveliness. The care range includes both an activating Serum as well as a Discovery Kit which gives you the opportunity to discover both the Serum as well as the Toner from the Celldentical range.
Organic active ingredients for beautiful, healthy looking skin
The Cell Life Youther, developed by SBT Sensitive Biology Therapy, is an active ingredient complex that fulfils various functions. It provides skin with 55 important nutrients and stocks up the skin's own energy reserves, calming sensitive skin and stimulating cell regeneration long term. Skin is renewed and gets its natural freshness back. Use the Serum daily to allow skin cells to absorb subsequent face care products better. The Activation Serum from SBT Sensitive Biology Therapy also increases the skin's own protective layer and gradually reduces skin's sensitivity. For best results, the cosmetic should be used daily. For this, massage a sufficient amount of the Serum into the skin. The product is suitable for both the face as well as neck and cleavage. Then apply your usual face care. So that the Serum can have the best effect, the ampule should be activated six hours before use. To do this, press the inner, white part of the cap down firmly. This adds the active ingredient-rich Powder directly to the Serum Solution. Then shake the Activation Serum thoroughly and replace the cap of the product with a pipette.