Elements by Wella
Wella Elements is a new Professionals Care series from the premium haircare section, which makes use…
Learn more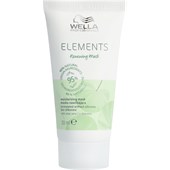 WellaElements Renewing Mask
€3.34
/ 30 ml
BP: €111.33* / 1000 ml
5/5 AggregateRating
Elements Professionals Care by Wella
Wella Elements is a new Professionals Care series from the premium haircare section, which makes use of its natural ingredient components to care for the hair in a gentle and effective manner with lasting results. The haircare range appeared in summer 2014 and is made up of a fine selection of individual products, including among others a shampoo, a mask, matching conditioner and a practical conditioner spray. Each product comes in shining white packaging with green highlights, which serve to highlight its natural ingredients. No matter which product you choose from the Professionals Care Elements range, you'll always benefit from its contaminant-free formula. The products contain absolutely no parabens, artificial dyes or sulphates - meaning that your hair will be handled with love and care.
Quality, top-class haircare from Wella
Wella Professionals Care has always been about providing the highest quality and devotion, meaning that the brand is never afraid to keep trying new innovations. The Elements haircare range can be used individually or in combination with other products. The shampoo has regenerative qualities and can be applied daily, with its luxurious foam giving your hair a wellness in a class of its own. The gossamer-like regenerative conditioner uses a very fine gel texture and strengthens hair fibres from root to tip, while the mask gives hair its vitality back and supports its restructuring. The leave-in conditioner is perfect if you're in a hurry. It doesn't need to be washed out, not even once!