ROSENTAU by ANNEMARIE BÖRLIND
The facial skin care by ANNEMARIE BÖRLIND impresses through its high quality ingredients. The
Ros… Learn more!
ROSENTAU Facial care by ANNEMARIE BÖRLIND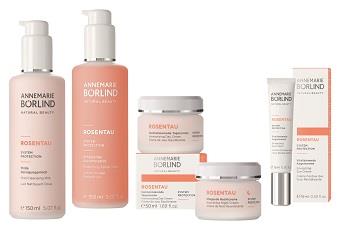 The facial skin care by ANNEMARIE BÖRLIND impresses through its high quality ingredients. The Rosentau line presents a high quality product line which impresses with its unique effectiveness and surprising results. Rosentau is now available as a facial lotion, day cream, cleansing milk and night cream. Pure rosewater and avocado moisturise the skin intensively. A protective complex of Gingko with vitamins C and E avoids premature aging of the skin.
Skin care which excites
The products by ANNEMARIE BÖRLIND naturally refresh your skin. Your complexion's resistance is restored and dry lines are refreshed. The use of high quality ingredients allows for application on sensitive skin. Your skin will acquire a new shine and any inflammation will be noticeably reduced. Decades of experience were incorporated into the development of the facial skin care. See the perfection of this skin care!