Face by ARTDECO
The trendy
Artdeco
cosmetics label constantly inspires trend-setters and fans of high-quality…
Learn more
3/5 AggregateRating
Face Make-up by ARTDECO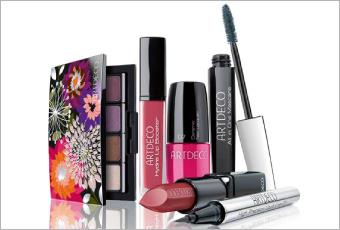 The trendy Artdeco cosmetics label constantly inspires trend-setters and fans of high-quality cosmetics every season with its ground-breaking Beauty Highlights. Whether you are looking for expressive colour schemes or proven beauty classics - the company is one of the most popular experts for professional make-up looks. Inspired by the latest international fashion trends, Artdeco offers a number of cosmetic ideas that emphasise the assets of every woman in the best possible way, correct minor irregularities on your face and make experimenting with different looks a real pleasure.
For a perfect finish on your face
Artdeco offers professional make-up products for a perfectly staged facial appearance. Whether you are looking for expressive styles for a night out, or a manicured look for going to work - you can be assured of excellent results thanks to the wide range of products offered by the cosmetic label. You can amend your look to create a smooth complexion by using foundation, suitable make-up and concealer, powder or even camouflage. Bronze powder or blusher invigorates your face in an instant, creating sophisticated highlights for defined contours and a youthful appearance. The Pure Minerals range is particularly kind to the skin and leaves a natural finish. With high-quality accessories ranging from sponges to brushes, there is nothing to stop you creating a radiant appearance.