Self-tanners by ARTDECO
Anyone who has already used Artdeco care products will be fully aware of their surprising effect. It…
Learn more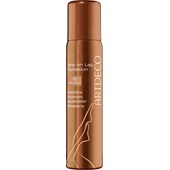 ARTDECOSelf-tanners Spray on Leg Foundation
BP: €219.50* / 1000 ml
4,5/5 AggregateRating
Self-tanners Skin care by ARTDECO
Anyone who has already used Artdeco care products will be fully aware of their surprising effect. It doesn't matter which product in the care range you use; the results will be astounding. The self-tanning lotion allows you to give your legs a summery tanned look. It doesn't matter whether you use it on your legs, face or upper body; all areas of your skin will have a delicate brown finish. This effect begins to work after just a short period of time.
A natural way to get a tan
By using the self-tanning lotion from Artdeco, you can benefit from a particularly safe and healthy way to get a tan. It is fast-acting, meaning therefore that it is not just cheaper than having to visit a tanning salon, but also kinder to your skin too. Your skin is provided with Vitamin E and plenty of moisture. Green tea extracts help to improve your complexion. Your skin looks youthful, firm and healthy. Come and find out for yourself about the surprising results obtained using these care products!