Fico di Amalfi by Acqua di Parma
Fico di Amalfi
is a unisex fragrance from the house of Acqua di Parma. The perfume carries it…
Learn more
Fico di Amalfi Unisex fragrances by Acqua di Parma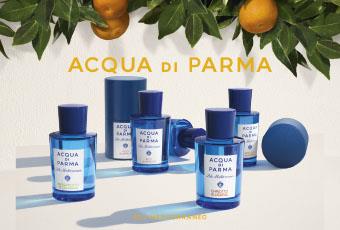 Fico di Amalfi is a unisex fragrance from the house of Acqua di Parma. The perfume carries its wearers away on a trip to the Mediterranean sea: The ingredients are reminiscent of Italy's sunny beaches and its refreshing sea breeze. Fico di Amalfi is a homage to Italy and its traditions, smells and joie de vivre. The fragrance by Acqua di Parma is pure, clear and natural: Just like a day on the sunny landscapes of Italy.
A unisex fragrance, which stimulates the senses
A perfume needs to be more than a reviving scent. Brilliant creations cause a journey of the senses. This purpose was consequently followed when combining the scents. In the meantime, the seductive and clear fragrance is available in the form of shower gels, body lotions and deodorants. Make a journey to the world of fragrances and get to know Italy's distinctive aromas!