Mirto di Panarea by Acqua di Parma
During the production of its perfumes,
Acqua di Parma
pays attention to maintaining a consist…
Learn more
Acqua di ParmaMirto di PanareaBlu MediterraneoEau de Toilette Spray
BP: €163.17* / 100 ml
Mirto di Panarea Unisex fragrances by Acqua di Parma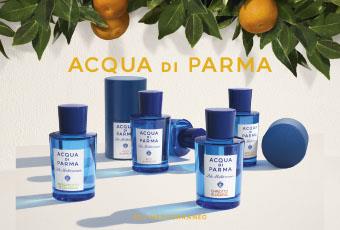 During the production of its perfumes, Acqua di Parma pays attention to maintaining a consistent character. Meticulous quality controls ensure that each perfume has the distinctive scent, which is promised by the fragrance line. This is oriented on Italy's beauty and sunny landscape. The unisex fragrance aims to whisk away its wearers to the coasts of Italy and to the smells, colours and traditions of the breathtaking southern country.
Mirto di Panarea: A scent, which revives your senses
Mirto di Panarea is a unisex fragrance, which seduces and stimulates the senses. When the ingredients were mixed together, particular attention was paid to preserving Italian fragrances. This includes sand beaches, the sea air, wind gusts on a sailing trip and the distinctive smell of the Italian cuisine. The Acqua di Parma fragrance is available not only as a perfume, but also in the form of a deodorant and a shower gel.