Specific Products by Ayer
Sensitive skin is stressed everyday - by environmental influences, such as sun or temperature, and a…
Learn more
Specific Products Skin care by Ayer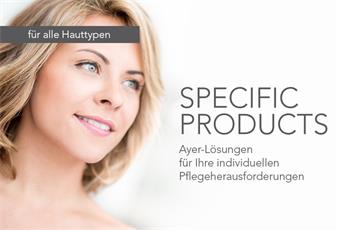 Sensitive skin is stressed everyday - by environmental influences, such as sun or temperature, and also by make-up and styling. The right cosmetics for skin care can balance out such stresses, by giving the skin exactly what it needs.
The Ayer Specific Series
offers everything needed to cleanse and nurture sensitive and stressed skin, in order to keep it soft and smooth.For instance, the cooling hydro-gel with micro capsules for the sensitive area around the eyes, which restores strength and radiance to tired eyes with the aid of biologically formative substances and valuable minerals. The Day and Night Cream in the Ayer Specific Series is quickly absorbed, has a pleasant texture and supplies the sensitive facial skin with abundant moisture, to gently alleviate and prevent wrinkles. Another product in this series is a body lotion that pampers the entire body with jojoba oil and vitamins and is suitable for both women and men.