BABOR Men by BABOR
With the skincare range Barbor Men, the German BABOR brand offers a high-quality and professional ca…
Learn more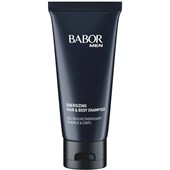 BABORBABOR Men Energizing Hair & Body Shampoo
BP: €84.75* / 1000 ml
5/5 AggregateRating
BABOR Men Men's skin care by BABOR
With the skincare range Barbor Men, the German BABOR brand offers a high-quality and professional care series for men that provides even very stressed skin with new energy and pur vitality. Demands in the workplace and in everyday life can put men under a lot of stress and this can often mean that the skin becomes tired, sallow, red or irritated, as well as developing signs of stress such as dark eye circles or skin creasing. BABOR has developed this special men's skincare collection for a healthy skin and a groomed, attractive appearance as well as for a general feeling of well-being. Thanks to the powerful active agent complex Taurec, the products offer care that regenerates, energises and revitalises. The result is a vigorous, resilient and attractive complexion.
BABOR Men - men's skincare for a vigorous, attractive skin


The BABOR Men skincare collection offers a comprehensive cosmetic programme for nourished, attractive skin, in which a man can feel confident and comfortable. Specifically for this series, BABOR has developed the active agent complex "Taurec", which combines energy-giving taurine, soothing hops and regenerative Siberian ginseng. This complex ensures vitality and energy. After treatment with the BABOR Men cosmetic range stressed and damaged skin is smoother, stronger, more energised and more protected, and reacts less sensitively to environmental factors and stress. The relaxed and pampered skin feels good and glows with attraction.

The BABOR Men series offers a wide range of products. This includes the revitalising, mild "Hair & Body Shampoo", the hydrating facial gel "Dynamic Face Moisturizer" with aloe vera, panthenol and mattifying Sebucon, and the 24-hour nourishing cream "Anti Wrinkle Face & Eye Energizer" for the face and eye area. For the perfect shave, the collection offers the creamy "Ultra Comfort Shaving Foam" and the nourishing active compound "Calming After Shave Fluid", which reduces dryness, redness and razor burn, and promotes the speedy healing of nicks and cuts. You'll find all of the products in this revitalising and energising men's care range in the "Barbor Men Travelset" . It is perfect for getting to know the products or for travel.