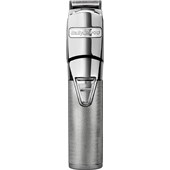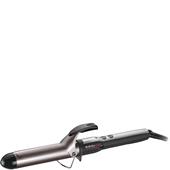 BaByliss ProCurling tongs Non Digital Titanium Turmalin
€35.15
/ 1 pcs.
BP: €35.15* / 1 pcs.
BaByliss Pro
For decades the BaByliss Pro brand has been launching "normal" to "major" innovations in the field o…
Learn more
BaByliss Pro Men's grooming and Haircare
For decades the BaByliss Pro brand has been launching "normal" to "major" innovations in the field of hair care and has thus proved to be an innovation itself. Year by year both professionals and end customers hold tools and accessories in their hands which constantly set higher standards and constantly redefine the term excellence.The BaByliss Pro Hair Dryer has a compact centring nozzle, six temperature and speed settings and a removable filter. At the touch of a button, the BaByliss Pro Curling Tongue conjures varied irresistible curl effects into the hair that last all day long. The hair strands are automatically drawn into the special, ceramic curl chamber. An acoustic signal sounds when the curl is finished and you can continue with the next strand. The BaByliss Pro Hot Air Brush offers the option of drying, straightening and lending the hair structured volume .
BaByliss - the experts for hair care and accessories
BaByliss is part of the American CONAIR Group, which comprises the four business divisions Consumer PRO, Devices for professional use, Accessories and brushes as well as Cuisinart (kitchen devices). Founded in 1961, the company soon developed into one of the leading capacities for cosmetics and hair care. The corporate history is characterised by numerous technical innovations, such as heatable curlers, the hot air brush, the electric hair straightener and the hair dryer with professional turbine.For some years now, hair protection has been considered the most important aspect of the development and production of new products at BaByliss. Thus, for instance, the hair straighteners protect the hair fibres via fundamental technological innovations, such as i-temperature technology. The merger of easy operability, functionality and noble design into one device also proves that the manufacturer is not just focusing on quality, but is also implementing its customers' ideas with a great deal of attention to detail, as well as incorporating their needs and wishes in the planning and design of its products.