Madison Square Park by Bond No. 9
Madison Square Park – a meeting point for New York's young trend scene. Neighbouring Koreatown and F…
Learn more!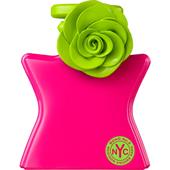 Bond No. 9Madison Square ParkEau de Parfum Spray
BP: €240.00* / 100 ml
Madison Square Park Women's fragrances by Bond No. 9
Madison Square Park – a meeting point for New York's young trend scene. Neighbouring Koreatown and Flatiron district, one hip designer hotel after another is springing up here. Trendy restaurants, hip bars and bodywork salons leave their own unique mark on the district. Romantic floral notes and fresh, green accents give the fragrance its opulent spirit. Grape hyacinth, blueberries, prairie grass, rose petals, tulips, teak wood and vetiver lend it a captivating, alluring note – one that nobody can resist.