Goldea Women's fragrances by Bvlgari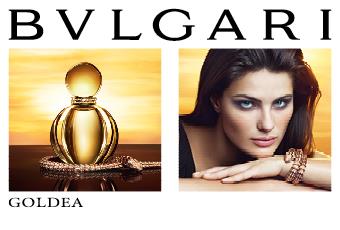 Like all fragrances from Bvlgari, the Goldea perfume line belongs to the best that the international perfume scene has to offer. It is a fragrance composition with a wide musk base, which underlines the vibrancy and femininity of the wearer intensively and with glamour, and radiates a pure lust for life and a sensuality. In addition to musk, Goldea's base note is composed of patchouli and papyrus, melding into a middle note that has a light, flowery character with essences of musk, ylang-ylang and jasmine. The top note is fruity and fresh with nuances of raspberry, bergamot and orange flower. Together these essences form a fragrant experience that intensively highlights the feminine side of a woman, giving her aura a special radiance – as if the perfume designer had caught the sun in the bottle.
Complete range for body care


As you would expect from Bvlgari, the Goldea fragrance is available not only as perfume but also in the form of high-quality body care products, which complement the brand's fine fragrances harmoniously. Goldea is available as a body milk, which leaves the skin velvety soft to the touch and delivers the same scent experience as the perfume. The Bath & Shower Gel series will also thrill with the same sensual fragrance, as will the fine Body Oil, with which you can pamper your skin intensively. All Goldea products are sensually scented. Just like the Bvlgari fragrances themselves, they are produced using only the finest raw materials and ingredients. This means that they are skin-friendly and provide a long-lasting fragrance experience.