Cool Water Sea Rose by Davidoff
A very special perfume from the Davidoff brand. What started with tobacco and cigars has advanced to…
Learn more!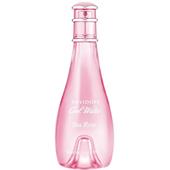 Cool Water Sea Rose Women's fragrances by Davidoff
Davidoff women's fragrances take the world by storm with ease
A very special perfume from the Davidoff brand. What started with tobacco and cigars has advanced to a brand with internationalflair and style and that for quite some time now. Cool Water Sea Rose is the best proof that the original men's brand knows how to please women, too! The perfume impresses with delicate Asian pear and violet, with peony and freesias, before cedar and musk also join in the base note. Naturally, this fragrance not only comes as a perfume but appears as a complete beauty line. A lovely rich body lotion, a shower gel and of course the Eau de Toilette Spray make Cool Water Sea Rose the ideal cosmetics line for the daily beauty regime. The women's fragrances from Davidoff impress with their sensual and feminine lightness that can stay with you all day long - if that's what you want. Because Cool Water Sea Rose is terribly well suited for daily use, but is a scent that is equally suited when you need to turn on the heat. This women's fragrance is simply ideal for all those women who are aware of their female powers and know how to use them.