Limited editions by Hildegard Braukmann
Hildegard Braukmann focused on the power of herbs and fruits long before natural ingredients became …
Learn more!
Limited editions Skin care by Hildegard Braukmann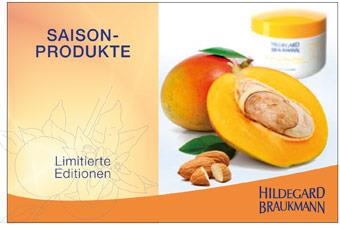 Hildegard Braukmann focused on the power of herbs and fruits long before natural ingredients became trendy. For 50 years, the brand from Burgwedel has been impressing with their holistic approach to cosmetics, which reinforces the body's own balance and the existing energy of the skin. Besides general products lines for daily and specific care, the brand also presents limited-edition seasonal products such as the mango series.
The name is the programme and already hints at which natural ingredients are contained in the formula of each limited edition line.