After Sun by Biotherm
During sunbathing, the skin on the body and face loses its natural protective barrier. With the Afte…
Learn more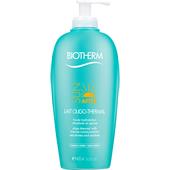 BiothermAfter SunLimitierte SondergrößeOligo-Thermal Aftersun Milk
BP: €5.74* / 100 ml
After Sun Sun care by Biotherm
During sunbathing, the skin on the body and face loses its natural protective barrier. With the Aftersun cosmetics products from the Biotherm institute, your existing tan is enhanced and the skin supplied with ample moisture as well as vital ingredients and vitamins. At the same time, the sun care products pleasantly refresh and cool the skin, leaving it shimmering. To produce its creams and lotions, the institute uses natural ingredients from the depths of the ocean as well as vitamins and trace elements.
Sun care with the unique effect of thermal plankton
The Aftersun care range was developed to combat the harmful effects of the sun. The delicate texture of the cosmetic products in the Aftersun range by Biotherm refresh the skin and alleviate flushing, the effects of which continue to be felt long after exposure to the sun. Mineral thermal plankton contains all the essential ingredients needed to restore the skin's elasticity, freshness and complexion, which are all lost through lengthy exposure to the sun. The care formula developed by Biotherm also contains a combination of pro-vitamin B5 and trace elements, which revitalise and improve your complexion. The radiant tan complex in the Aftersun care products ensures a long-lasting, even and beautiful tan. When used regularly, the Aftersun cosmetic products soothe the skin, leaving it supple, pleasantly refreshed, radiant and beautiful. To restore the skin's protective barrier after sunbathing, the Aftersun products should be applied in a thick and even layer. Biotherm sun care products are suitable for women and men with normal skin and can be used after each lengthy bout of sunbathing.