Candour by Humiecki & Graef
Unisex fragrances such as the
Candour
perfume from the Humiecki & Graef brand have cast thei…
Learn more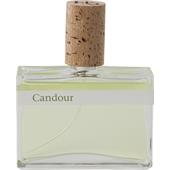 Humiecki & GraefCandour Eau de Toilette Concentrée Spray
BP: €176.00* / 100 ml
Candour Unisex fragrances by Humiecki & Graef
Unisex fragrances such as the Candour perfume from the Humiecki & Graef brand have cast their spell over people worldwide. The aromatic fragrance touches the senses and evokes an all-round sense of well-being. The Humiecki & Graef brand is managing to create more and more fragrances with which to appeal to the human senses. The aromas are constantly changing direction and will amaze with their strong yet unobtrusive character.
Luxurious quality for the everyday
Candour is a perfume that has been available since 2012. The creation comes from the traditional perfume workshops of perfumers Christophe Laudamiel and Christoph Hornetz. Green notes, iris, calamus and ginger blossoms make up the base of the fragrance. Olive leaves, lavender and sage round off the fragrance. Almond, vanilla, milk and cardamom give the fruity aroma a sweet character. Lily of the valley and sandalwood give rise to a herbal undertone which ensures variety.