Oud Men's fragrances by John Varvatos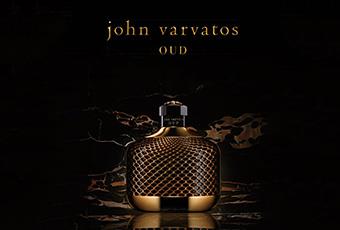 Oud from Varvatos is inspired by the opulence and luxury of the Middle East. This perfume skilfully interweaves its oriental roots with the mystery shrouded character of oud oils, one of the world's most expensive oils, which is not described as "liquid gold" for nothing. In the top note of these men's fragranes, aromatically sweet tobacco, Levantine cypress, nutmeg sage, hyssop and juniper berries ensure invigorating freshness. In the core, opulent notes of Persian saffron, royal cinnamon from Laos, cardamom from Sri Lanka, Malabur pepper, and clove buds from Zanzibar mix with absolues from Egyptian jasmine, Turkish rose and osmanthus. This composition is rounded off by the unmistakable character and mysticism of the rare oud oil, co-ordinated with Andalucian labdanum, Libanese cedarwood, myrrh, frankincense, opoponax, amber and black leather.
Men's fragrances for Rock 'n' Rollers
John Varvatos, a Greek-American fashion designer, designs and markets primarily men's clothing, accessories and perfumes. In his creations, he combines traditional aspects with elements of trendy American style. Both the designer's fashion and his men's fragrances are distinguished by their unique mixture of modern elegance, laid-back luxury and tastefull vintage notes. The company's image possesses an affinity with rock 'n' roll. Varvatos himself is a rock music fan and plays the guitar. In the past, you needed stars like Alice Cooper, Iggy Pop, Kiss or ZZ Top for advertising campaigns. The perfume flaçon makes this preference visible too. In the style of a microphone, a close-meshed gold net envelops the deep-black bottle, crowned by a screw cap in the 'Fleur de Lis' design.