Mad Madame by Juliette has a Gun
The Mad Madame range was developed by Juliette Has A Gun in 2012 and is composed of countless ingred…
Learn more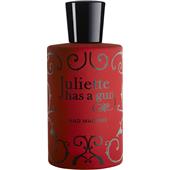 Juliette has a GunMad Madame Eau de Parfum Spray
BP: €121.95* / 100 ml
Mad Madame Women's fragrances by Juliette has a Gun
The Mad Madame range was developed by Juliette Has A Gun in 2012 and is composed of countless ingredients which have been used in the perfume of the same name. The fragrance is aimed at women who like adventure, risking something and travelling the world. The women's fragrances from Juliette Has A Gun have been amazing women for years thanks to their exciting compositions which frequently use ingredients which are in direct contrast to each other. This gives rise to fragrance compositions which have such a varying impression from the first spritz to the last, that this simply can't be imitated.
Risk and wanderlust in a single perfume
The Mad Madame range builds up its prelude in the top notes with ambroxan, black currant, freesias and rose oil. In the core of the fragrance sit tuberose, moss, floral notes and peonies, whilst the unmistakable patchouli builds up the sensuous contrast. The fragrance's base contains soft vanilla, castoreum, white musk and tolu balsam to sensuously round off the fragrance composition of this unique creation. This gives rise to a range of fragrances that are as timeless as they are exciting.