Densifique by Kérastase
Now you can get healthy, thicker hair with this new
hair care product by Kérastase
. This vial…
Learn more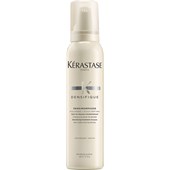 KérastaseDensifique Densimorphose Mousse
€26.55
/ 150 ml
BP: €177.00* / 1000 ml
5/5 AggregateRating
Densifique Hair care by Kérastase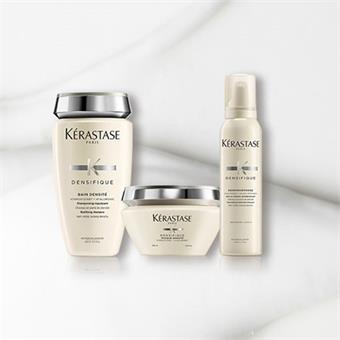 Beautiful, thicker hair with Kérastase Densifique
Now you can get healthy, thicker hair with this new hair care product by Kérastase. This vial-based treatment is applied to the scalp once daily over a longer time period. The product should be massaged deeply and in circular motions into the scalp. After just ten days the hair should feel noticeably thicker, with the increasing hair thickness even more evident after a month. The new technology that Kérastase uses in its Densifique hair care products promotes hair growth and produces thick, beautiful hair.
This is how the Densifique hair care product works
The product contains Stemoxydine, which revives dormant hair follicles. Vitamin B then reactivates the hair follicles. Finally, the product contains a texturing polymer, which instantly thickens the hair fibres. Don't just accept thin or thinning hair. With this effective hair care product in a vial you can do something about it!