Skin care by Lavera
Well-kept hair has always been a visual expression of beauty and attractiveness. Washing with the na…
Learn more!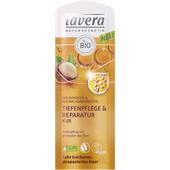 LaveraSkin careOrganic Almond Oil & Organic Macadamia Nut OilDeep Clean & Repair Treatment
BP: €6.95* / 100 ml
Skin care Hair care by Lavera
Well-kept hair has always been a visual expression of beauty and attractiveness. Washing with the natural shampoos and special shampoos is rounded off by Lavera products for everyday hair care with natural active agents and ingredients. The conditioners and treatments are available for normal, dry, fine, and very fragile hair. The cosmetics institute Laverana has developed special treatments for coloured and permed hair. The special formulas and natural ingredients make the hair easier to comb.
Care and protection with conditioners and treatments from Lavera
The conditioners and treatments from the cosmetics institute Laverana are ideal for women's daily hair care. The natural products do not add weight or strain to the hair and scalp. The natural ingredients soak in instantly and begin to work. For optimum protection and intensive care, the high-quality products should be combined with the shampoos and special shampoos from the hair care range. Regular use of the hair care products from Lavera makes the hair soft, smooth, and shiny, and gives it a special fragrance.