Styling by Moroccanoil
Moroccanoil is the very special hair cosmetic
for excellent and irresistible styling
. The pro…
Learn more
Styling Hair care by Moroccanoil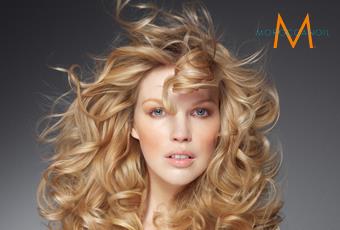 Moroccanoil is the very special hair cosmetic for excellent and irresistible styling. The products by the brand have meanwhile developed a well known name, are used by numerous designers, stylists and models around the globe and number and are generally known as wonderfully wearable. The hair care is divided by desired effect and hair type, for instance Extra products are offered for wavy and curly hair, while additional care is retained for very smooth and dry hair. Moroccanoil hair care can be used as a hair spray but also as a mousse or cream as desired to create a naturally effective style.
High quality oil direct from Israel
The hair care by Moroccanoil comes directly from Israel and is known above all for its nourishing effects, since the oil ensures that the hair becomes less frizzy, softer and shinier in a short time, without losing its natural radiance. Quite the opposite since this can be regained through high quality styling and care products. Meanwhile, hairspray, cream and co ensure lively and perfectly styled hair, which defies adverse conditions.