Black XS for Her by Paco Rabanne
A "Barock 'n' Roll" perfume for rebellious princesses! This seductive perfume by Paco Rabanne has be…
Learn more!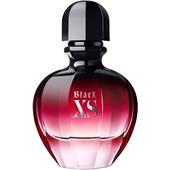 Paco RabanneBlack XS for HerEau de Parfum Spray
BP: €149.83* / 100 ml
Black XS for Her Women's fragrances by Paco Rabanne
A "Barock 'n' Roll" perfume for rebellious princesses! This seductive perfume by Paco Rabanne has been created for them alone by combining rare ingredients. This is how Black XS for her was created: a zesty and very feminine perfume with a surprising fragrance, sensual and bewitching, which is particularly addictive for "tough guys with a soft heart"! A unique fragrance and the mirror of today's scene of rock'n'roll and dancing in summer nights. Black XS is both a summer fragrance as well as a life companion for the whole year. Always refreshing and tingling. At the same time, it is as rebellious as its wearer. It is about uprising, rebellion and being yourself! A fragrance with an addicitive potential! A fragrance, which rocks!