Arabian Breed by Parfums de Marly
With Arabian Breed, the French luxury brand Parfums de Marly has created a total of four new fragran…
Learn more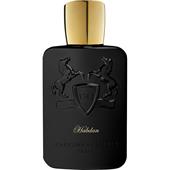 Parfums de MarlyArabian BreedHabdanEau de Parfum Spray
BP: €1,999.60* / 1000 ml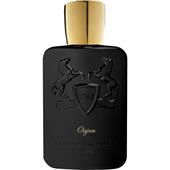 Parfums de MarlyArabian BreedOajanEau de Parfum Spray
BP: €1,999.60* / 1000 ml
5/5 AggregateRating
Arabian Breed Men's fragrances by Parfums de Marly
With Arabian Breed, the French luxury brand Parfums de Marly has created a total of four new fragrances, which are not only persuasive due to their elegantly optical presentation, but also due to their mystical and sonorous aromas, which were strongly influenced by the Arabian culture and the popular Arabian spices. In the best tradition of an Arabian perfume, the Arabian Breed men's fragrances thus tend to be somewhat heavier and have very dense, tightly woven aromas, instead of airy light accords as predominantly used in the European area.The flacon of the Parfums de Marly men's fragrances is again very elegant in design, with the brand again relying on its roots and using a French design with an equally French production. Every Arabian Breed Perfume comes in a deep black flacon with the distinctive imprint of 2 horses, which function as the brand logo of Parfums de Marly. The imprints are artfully affixed to the front and result in a very elegant flacon texture, while the lid set off in gold ensures a luxuriously aesthetic appearance.
Arabian notes with French nuances
The Arabian Breed fragrances consist of four individual creations: Kuhuyan, Habdan, Oajan and Hamdani. They all avail themselves of ingredients typical of Arabian aromas, thus evoking very masculine men's fragrances, which are able to exhibit an especially strong and distinctive character. Thanks to its dense sillage, the perfume is very memorable and is highly sustainable at the same time, which is why just a few splashes are more than enough to envelop the wearer in pleasant men's fragrances for the rest of the day. The fragrances are also very aromatic and, for the most part, have slightly fruity accents, of grapes or ripe plums, for instance.Aside from that, experiments are also made with pungent nutmeg notes contrasted with velvety soft honey. Typically Arabian spices round off the multifaceted spectrum of these creations. The result is an exciting fragrance line from the other end of the world.