Suprême Jeunesse by Payot
The
Suprême Jeunesse skincare series by Payot
guarantees youthfulness and a fresh, firm compl…
Learn more
Suprême Jeunesse Skin care by Payot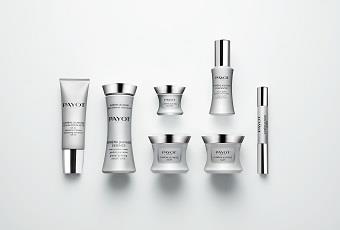 The ideal skincare with an anti-aging effect for your skin: Suprême Jeunesse by Payot
The Suprême Jeunesse skincare series by Payot guarantees youthfulness and a fresh, firm complexion. The cosmetic is based on fine ingredients and is suitable for all skin types. With an intense anti-aging effect, the care range represents an important part of your daily facial routine. In detail, the following products are included in the series: The day and night creams are an essential base. The Suprême Jeunesse Concentré regeneration serum is a highly-concentrated intensive care product. The Creme Regard provides you with a cream that both protects and cares for the delicate skin around the eyes.
The active ingredients of the Suprême Jeunesse series by Payot
The Youth Process Complex is responsible for the effective actions of this nourishing cosmetic series. With it, the manufacturer Payot has been able to ensure that the signs of skin aging are visibly minimised. The formula builds up the skin's own natural defences. The products include extracts of magnolia, orchid, brown algae and wakame. Vitamin C and hyaluronic acid provide freshness and firmness. Small lines and wrinkles are reduced. Your skin is left looking younger and more radiant. The series is very skin-friendly. For best results, use the products regularly on cleansed skin. The serum provides a fantastic regenerative effect, pampering your complexion with its highly-concentrated ingredients. The eye cream will ensure that your eyes look wide-awake and radiant. You notice the positive effects of Suprême Jeunesse by Payot on your skin after the shortest of times!