Bois d'Oud by Perris Monte Carlo
Perris Monte Carlo has also become known in Germany over the past few years as a manufacturer of exc…
Learn more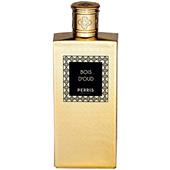 Perris Monte CarloBois d'Oud Eau de Parfum Spray
BP: €144.95* / 100 ml
Bois d'Oud Unisex fragrances by Perris Monte Carlo
Perris Monte Carlo has also become known in Germany over the past few years as a manufacturer of exciting unisex fragrances. Perfumes from the company are distinguished by luxury design and sophisticated composition of exquisite essences which address both men and women and are mainly offered as fragrances for the exceptional occasions in life. Bois d'Oud, which is available in our range, is one of the most popular product lines by Perris Monte Carlo can also be ordered as an Eau de Parfum Spray. With oud, an essence is being used that is currently one of the hottest trends in the perfume sector.
Discover oud as a spicy and woody fragrance note
The fundamental character of Bois d'Oud by Perris Monte Carlo is already described in the name. Traditionally, oud is made from the resin of the aquilaria tree but different manufacturers of trendy fragrances rely on synthetic versions. Bois d'Oud focuses on the original character of the natural raw material, which exhibits a strikingly spicy note and does not disown its woody character. Like many unisex fragrances by Perris Monte Carlo this perfume also offers an exciting addition to the base note, where Bois d'Oud gains its fresh and subtle note and addresses women as well as men.
Order luxury fragrances online and benefit from great prices
The trend brand Perris Monte Carlo has specialised in unisex fragrances which can be discovered and ordered from our range in all their variety. Even though perfume from the manufacturer leaves behind a luxurious impression and meets the highest demands you do not need to be worried about expensive prices. Our Shop has fragrances from all notable brands and labels in order to provide you with the right perfume for any occasion. Just get to know the charm of Bois d'Oud and other inspirations from Perris and also acquire cosmetics or care items in addition to fragrances from our enormous range at a good price!