Musk Extrême by Perris Monte Carlo
Exciting fragrance creations direct from the Mediterranean are the speciality of the sophisticated P…
Learn more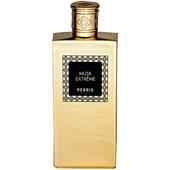 Perris Monte CarloMusk Extrême Eau de Parfum Spray
BP: €144.95* / 100 ml
Musk Extrême Unisex fragrances by Perris Monte Carlo
Exciting fragrance creations direct from the Mediterranean are the speciality of the sophisticated Perris Monte Carlo brand, which has been valued for its special fragrances for years in this country. With the perfume Musk Extrême the manufacturer provides a particularly elegant version of its unisex fragrances, which delights men and women alike. Offered in its golden, shimmering flaçon, Musk Extrême embodies a unique elegance and it is preferred to be used on special occasions. Due to it being suitable for both sexes, the perfume by Perris Monte Carlo is very subtle and fresh and you can access this fragrance experience at an extremely attractive price in our Online Shop.
Eau de Parfum Spray with a striking main note
Of course, musk in this perfume presents the most striking note, which has been used as an essence for decades in women's and men's fragrances and has therefore become the ideal enrichment to sophisticated unisex fragrances. The top note is complemented by other fresh and woody fragrances which create something unique in their composition and become the ideal perfume for exceptional occasions. Perris Monte Carlo has a lot of experience with unisex fragrances and knows the ideal composition that addresses men and women alike. They are not only impressed by this in the Musk Extrême version.
True luxury fragrance with Mediterranean charm
Like all fragrances by Perris Monte Carlo, Musk Extrême also stands for the fresh and Mediterranean character which brings the Mediterranean into your own bathroom. Of course, the excitingly designed flaçon also leaves an elite impression on the move and has become a loyal companion to men and women on holidays and business trips. In order to discover further unisex fragrances and to always envelop yourself in a new fragrance, it's worth having a look at our varied range. In addition to cosmetics and care products our selection of fragrances is enormous and we also have many special fragrances from women and men in addition to unisex fragrances.