Patchouli Nosy Be by Perris Monte Carlo
With Patchouli Nosy Be the Perris Monte Carlo Collection is presenting the unique combination of pat…
Learn more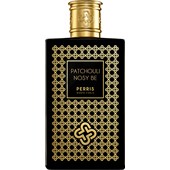 Perris Monte CarloPatchouli Nosy Be Eau de Parfum Spray
BP: €189.90* / 100 ml
Patchouli Nosy Be Unisex fragrances by Perris Monte Carlo
With Patchouli Nosy Be the Perris Monte Carlo Collection is presenting the unique combination of patchouli from Nosy Be, a small island off the north west coast of Madagascar, and the spicy notes of the Peruvian pepper tree for the first time. These unisex fragrances are rounded off with dry tones of sandalwood and cedar and with a touch of cocoa with vanilla and labdanum. The result is a beguilingly warm perfume which leaves enough room in the spicy top note for the complexity of the patchouli. This long lasting fragrance is particularly suited to people who use it in multiple layers and creatively. Patchouli Nosy Be can be applied before the other perfumes from Perris Monte Carlo, for example to give "Ylang Ylang" an exotic touch, to make "Oud Imperial" unique or to introduce "Rose de Taif".
Unisex fragrances with an incomparable note
The Nosy Be island belongs to the province of Antsiranana. The name means "large island" in Madagascan. Actually it is the largest island of the archipelago. But Nosy Be is more well known by its nickname Nosy Manitra – "scented island". This name refers to the intense fragrances that are present all over the island thanks to the plants and herbs, including vanilla, ylang ylang, cocoa, coffee, geraniums, cinnamon, pepper, frangipani and other plants typical to North Madagascar. The unisex fragrances by Perris Monte Carlo, including the Patchouli Nosy Be perfume fascinate in the same way as the island with their extraordinary fragrances. The special quality of the ingredients and the uniqueness of the creations is reflected in the packaging with golden decorations – luxurious, elegant and modern just like the perfume.