Revlonissimo 45 Days by Revlon Professional
With the Revlonissimo 45 Days Hair Care Series, the US-American Revlon Professional brand in New Yor…
Learn more!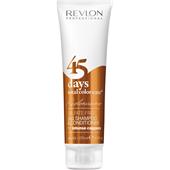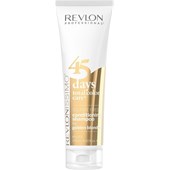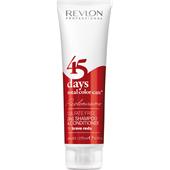 Revlonissimo 45 Days Hair care by Revlon Professional
With the Revlonissimo 45 Days Hair Care Series, the US-American Revlon Professional brand in New York City is launching a new hair cosmetic innovation. This product line is a colour-intensifying hair care cosmetic, which combines a cleansing shampoo and a nurturing conditioner in one product. The product line is globally represented in the current marketing campaign by the internationally famous stars Halle Berry, Emma Stone and Olivia Wild. As Revlon brand ambassadors, the three stars draw attention to the welcome product line, which combines beautiful hair, care and colour. The Revlonissimo 45 Days Cosmetic Series not only ensures optimal hair care, it also preserves a radiant and intensive hair colour.
Special features of this colour-intensifying hair care series:
Whereas many shampoos and hair care agents weaken the colour in the hair, the Revlonissimo 45 Days products have exactly the opposite effect. Coloured and tinted hair is strengthened by this Revlon Professional hair care line and receives a luminously intensive colour, healthy care, a silky soft suppleness and effective protection. These 2 in 1 shampoo & conditioners are specifically designed to meet the needs of various colour tones. In time, influences such as hair-washing, UV rays, heat and various climatic impacts make coloured hair lose its colour intensity, its shine as well as its luminosity, thus appearing lacklustre, lifeless, dry as well as dull. The hair colour becomes increasingly unattractive in appearance. To ensure the hair stays permanently beautiful in the period between two colour treatments, the Revlonissimo 45 Days Cosmetic Products provide support. The colour care line offers effective help in 6 colour nuances. The 2 in 1 shampoo & conditioners concerned are mild and sulphate-free, and balance out the constantly progressive loss of colour with enriching colour pigments. In addition, these Revlon Professional Cosmetics supply the hair with nutrients and moisture, as well as combating dryness and brittleness. Coloured hair appears healthy, intensive and permanently beautiful.
Colour nuances in this Revlon Professional Cosmetic Line:
The Revlon Professional Revlonissimo 45 Days Hair Care Line provides the appropriate nuances for very colour type.* Brave Reds for red nuances. Ideally suitable for reflex tones .6 and .66!* Golden Blondes for warm blond nuances. Ideally suitable for tone levels 7 to 8!* Ice Blondes for cool and light blond nuances. Ideally suitable for tone levels 9 to 10!* Intense Coppers for copper-coloured nuances. Ideally suitable for reflex tones .4 and .44!* Sensual Brunettes for chocolate brown to chestnut brown nuances. Ideally suitable for tones 5 to 6!* Radiant Darks for extremely dark to black nuances. Ideally suitable for tones 1 to 4!