Global Body Care Body care by Shiseido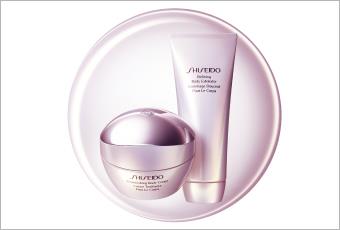 The products in the Global Body Care Cosmetic Series by Shiseido are for women who prefer a rich and luxurious body care. The skin becomes radiantly smooth and receives a firm silhouette at the same time. The gels and creams in the high-quality care series supply the skin with abundant moisture and vitalising active agents, contribute towards cell regeneration and remove unwanted skin impurities. At the same time, cellulite is alleviated and the skin's elasticity is supported. The body care products lend the skin a pleasant fragrance and have a refreshing and invigorating effect.
Shiseido for the daily body care
The creams and gels in the Global Body Care Series are suitable for daily use and can be applied in the morning and evening after the shower or bath. The care products in the cosmetic series are ideally suitable for mature skin types. The Shiseido products in the Global Body Care Series improve the skin after only a few applications, while contributing towards a better body sensation at the same time.