Even Skin Tone Facial care by Shiseido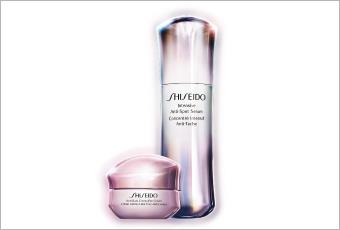 Irrespective of age, skin type and sex, the high-quality products in the Even Skin Tone Cosmetic Series by Shiseido ensure a beautifully smooth facial skin and a radiant complexion. The intensely nurturing Anti Dark Circles Facial Cream and the innovative Anti Spot Serum alleviate dark circles under the eyes and pigment spots after only a few applications. The creams and serums in the Even Skin Tone Series are suitable for all skin types and can be used for daily facial care.
Shiseido combines Asian traditions with innovative advanced technologies
The cosmetic products in the care series contain a highly dosed active agent complex, which combats pigment spots and dark circles under the eyes so efficiently that no special massage of the affected areas is necessary. After just a few weeks the area around the eyes is radiant and the dark circles under the eyes have noticeably decreased. The blood vessels' micro circulation is stimulated by the concentrated active agents and the complexion becomes radiant and youthful. The care products in the Even Skin Tone Facial Care Series by Shiseido are ideally suitable for women and men of all ages.