Ever Bloom by Shiseido
It all began with a black and white photo of a camellia as a symbol of timelessness and elegance. Th…
Learn more!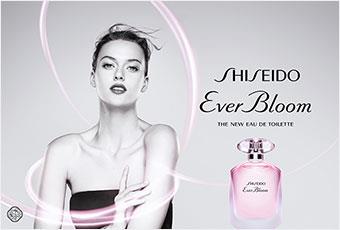 It all began with a black and white photo of a camellia as a symbol of timelessness and elegance. The confident, angelically creamy white camellia was captured in 1940 by the photographer Roso Fukuhara, son of the founder of the Shiseido brand.Ever Bloom by Shiseido surprises with two fragrance chords, which wrap the wearer in an elegant interplay. Delicate and yet strong – this composition underlines your inner beauty.

Ever Bloom is radiant, delicate and very feminine. The fragrance is more seductive than any flower, draws all glances in its direction and will conquer every heart. Perfumer Aurélien Guichard imagined the transparent heart of a flower, which presented itself as pure and natural. An abstract flower which may not at first be instantly recognisable, like a silky soft veil that lies on the skin. The fragrance was created for the sensual woman who wants to surround herself in a pure and dewy scent.

The bottle completes the composition with a delicate sensuousness from nature and pure femininity as well as a pulsating magic. The bottle shimmers red in the light and seems to glow with innate beauty from within.