Complexion by Tana
With Egypt Wonder, Tana offers a number of unique make-up products for a naturally tanned complexion…
Learn more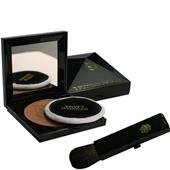 TanaComplexion Egypt Wonder Sport Compact Set
€19.42
/ 1 pcs.
BP: €19.42* / 1 pcs.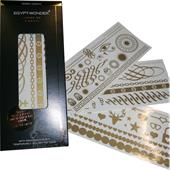 TanaComplexion Egypt Wonder Goldfever Tattoos
€7.42
/ 1 pcs.
BP: €7.42* / 1 pcs.
5/5 AggregateRating
Complexion Make-up by Tana
With Egypt Wonder, Tana offers a number of unique make-up products for a naturally tanned complexion. Alumina, a natural mineral powder, is the secret behind this product, ensuring your skin has its own individual shade in a matter of seconds. You can define the intensity of the effect yourself; ranging from a touch of colour through to a really deep suntan. The product shades adapt to your skin tone, ensuring a really natural result.
Tana Egypt Wonder - create the complexion of your dreams
You can quickly conjure up your desired skin tone by using the loose Bronzing Powder in a stylish clay pot. You always have your dream complexion by your side with the Sport Compact Set with its integrated mirror and brush and Compact Powder variants in a mirror box. The Single Duo also offers you two tones that you can use to touch up and mattify your face when on the go. The Goldfever Gel helps you conjure up a delicate golden shimmer on your cheeks, décolleté or any other part of your skin. Quick Tan combines a naturally effective self-tanner with a nourishing make-up product. The Egypt Wonder Liquid Self-Tanning Balm and Quicktan Touch Fluid work immediately, giving you your desired tan in no time at all.