Bonbon by Viktor & Rolf
The Viktor & Rolf fragrance range with the seductive name Bonbon exudes pure femininity. The range w…
Learn more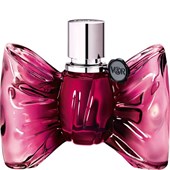 Viktor & RolfBonbon Eau de Parfum Spray
€59.95
/ 50 ml
BP: €1,199.00* / 1000 ml
5/5 AggregateRating
Bonbon Women's fragrances by Viktor & Rolf
The Viktor & Rolf fragrance range with the seductive name Bonbon exudes pure femininity. The range was inspired by the Eau de Parfum Spray of the same name, which comes in a very feminine, playful bottle. In the shape of a bow (or even a small butterfly) the bottle shines a pale pink, while the base of the bottle has a somewhat darker colour nuance. The sides of the Bonbon bottle have a very fine gradient from pink to white, giving a wonderful colour. In any case this bottle is an absolute eye-catcher!Along side the Eau de Parfum Spray, there are also other creations by Viktor & Rolf which also delight. A hydrating Body Lotion exudes a feminine scent, while the essences sink deep into the lower skin layers in order to store lasting moisture in the designated reservoirs. Ideally the Body Lotion should be applied directly after showering, so the skin is not allowed to dry out first. Meanwhile the coordinating Shower Gel can be used in the shower. This frees the skin of dirt, sweat and other debris. Both products have a very sweet presentation.
As wonderfully sweet as a tasty bonbon
The women's fragrances by Viktor & Rolf are totally new in 2014. The fragrances were combined by the perfumers Mane, Serge Majoullier and Cécile Matton, while the feminine aspects in particular were not neglected. The model Edita Vilkeviciute also ensures high recognition as the face of the perfume.The women's fragrances open in the top note with a fruity composition of peach, orange and mandarin. The central note of the women's fragrances use jasmine, orange blossom and wonderfully sweet caramel, before merging to natural scents in the foundation. Here sandalwood, cedar, amber and guaiac wood play perfectly together to achieve an unforgettable dream of pure femininity.