Lips Make-up by ARTDECO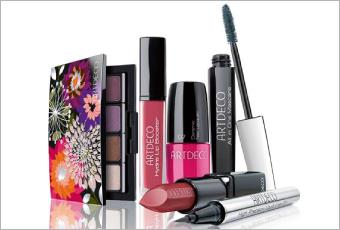 With its close affinity to art and fashion, the cosmetic label Artdeco provides constant inspiration to countless customers every season. The trendy make-up brand offers lots of cutting edge make-up ideas, care products for your face, body and hands, and premium special products ensuring professional make-up results. Practical refill systems do not just save money; they also help to protect the environment as well. It doesn't matter whether you are looking for dramatic looks or classic manicured styling - Artdeco's products allow you to put your own assets into the limelight in the best way possible.
Mesmerising lips for an unforgettable appearance
Do you want to have delightfully soft and supple and well-maintained lips, or perhaps some seductive styles as well? The wide range of products available for your lips means you can create any look in an instant. Do you enjoy experimenting with different looks and the latest make-up trends depending on how you feel?.

Rich lipstick, fascinating lip lacquer, seductive gloss and defining lip liner all help you to portray yourself in the perfect light. The wide range of colours and different textures mean there is no limit to your desires. High-quality lip care products and clever special products provide your lips with moisture and boost them, correct small wrinkles and fix your lip styling in a reliable and long-lasting manner.
Lips by ARTDECO