Sets by Ahava
The Dead Sea lies 410 m below sea level and is thus unique in the world. Equally exceptional is it…
Learn more
AhavaSetsTrial Kit Apple of SodomGift Set
€14.95
/ 1 pcs.
BP: €14.95* / 1 pcs.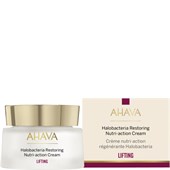 AhavaSets HaloBacteria Restoring Nutri-action Cream
€65.95
/ 50 ml
BP: €1,319.00* / 1000 ml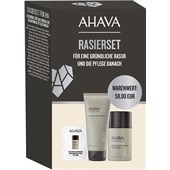 AhavaTime To Energize Men Men Shaving Kit
€23.95
/ 253 ml
BP: €94.66* / 1000 ml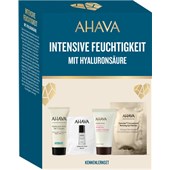 AhavaSetsTrial Kit Hyaluronic AcidGift Set
€11.95
/ 1 pcs.
BP: €11.95* / 1 pcs.
5/5 AggregateRating
Sets Gifts & Sets by Ahava
The Dead Sea lies 410 m below sea level and is thus unique in the world. Equally exceptional is its waters richness in terms of mineral concentration, which amounts to 32 %. Their healing powers for skin conditions and for use in natural skincare is dermatologically proven. For about 30 years Ahava has been devoted to research & development and is regarded as the cosmetics brand for Dead Sea cosmetics; it offers its products individually and as sets or kits.
Kits for wellness and natural skincare form the Dead Sea
Ahava's portfolio includes a great variety of product lines for facial care, body care, make-up and sun protection, which are also available as gift sets or kits. These sets or kits are ideal for getting to know the invigorating and nourishing properties of the products from this cosmetics manufacturer. The shower gels, bath salts, peelings, face creams or body lotions are particularly suitable for stressed, sensitive and dry skin. Products make sure the skin is cleansed intensively, is hydrated and the stressed skin or tense body are revitalised. Giving Ahava gift sets & kits as presents to others is doing the recipients a world of good.