Hair & Scalp by American Crew
The American Crew products have often set new standards in the past with regard to what good cosmeti…
Learn more!
Hair & Scalp Hair care by American Crew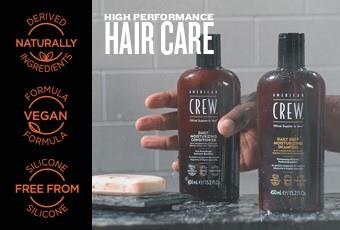 The American Crew products have often set new standards in the past with regard to what good cosmetics need to do today. The
American Crew care series for the hair
offers the highest standard of hair cosmetics: The hair care in the Hair & Scalp Series does hair good.A well-groomed appearance is a must. However, not just too little care but also badly chosen or qualitatively poor care products can make the hair seem limp and unkempt. The Hair & Scalp Care Series owes its quality to an intelligent combination of know-how and high-quality ingredients. Natural substances, such as thyme and rosemary, vitalise and strengthen not just the hair but also the scalp, as a healthy scalp is essential for healthy and robust hair. The American Crew hair cosmetics are well tolerated even when used daily. From the various shampoos via the conditioner, all products are designed to vitalise the hair, lend it strength and shine and supply it with the necessary moisture - an all-round well-being programme for a well-groomed, radiant appearance.