Curling iron by BaByliss Pro
Many women with naturally straight hair dream of having wavy hair. In order to implement the right t…
Learn more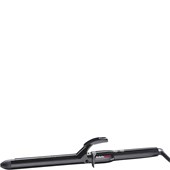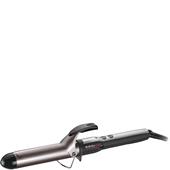 BaByliss ProCurling iron Non Digital Titanium Turmalin
€35.15
/ 1 pcs.
BP: €35.15* / 1 pcs.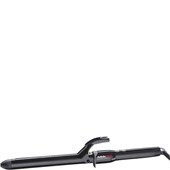 BaByliss ProCurling iron Advanced Curl 32 mm
€55.94
/ 1 pcs.
BP: €55.94* / 1 pcs.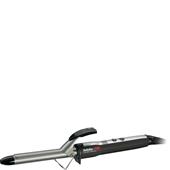 BaByliss ProCurling iron Digital Titanium Turmalin
BP: €61.84* / 1 pcs.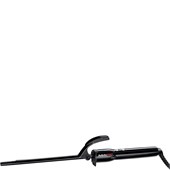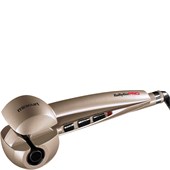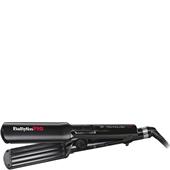 BaByliss ProCurling iron Crimping irons - EP
BP: €64.76* / 1 pcs.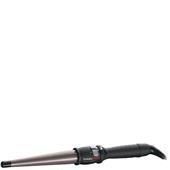 BaByliss ProCurling iron Conical Titanium Tourmaline
BP: €55.47* / 1 pcs.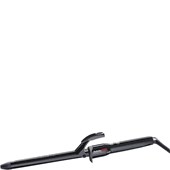 5/5 AggregateRating
Curling iron Technical equipment by BaByliss Pro
Many women with naturally straight hair dream of having wavy hair. In order to implement the right technology and not endanger the hair's health due to too much heat, the purchase of professional curling irons by the renowned Babyliss brand recommends itself. The international manufacturer specialises in technical devices focusing on the cosmetics and care of beautiful hair and offers an extensive equipment range to satisfy all hairstyling wishes. Curling irons and other devices, which allow you to conjure hairstyles at home that are just as exciting and attractive as in a professional salon, can be ordered via our online shop at inexpensive prices.
Babyliss technology for unique hairstyles
Offered in the form of curl machines or classic irons, the Babyliss technical device assortment responds to different hairstyle lengths. Even for medium-length haircuts, women can use the manufacturer's technology to achieve excitingly curled hairstyles in minutes. For an even look and a quick use of curling irons, Babyliss has practical designs on stock with several individual irons that can be managed via a single grip and can produce small curls in a very confined space. Of course, the brand manufacturer also offers straightening irons for hair cosmetics, in case women with natural curls want to convert to a straight look.
Purchase inexpensive professional technology for salons and at home
Professional cosmetics for your own hairstyle no longer need to be anywhere near as expensive as in the hairdresser or hairstylist salon, Babyliss curling irons and other devices allow you comfortable and safe usage at home as well. Our large assortment of technology of the renowned brand is of course also open to those hairdresser salon operators wanting to rely on the quality of a single manufacturer with curling irons, hair dryers, hot air brushes and other devices. In addition, our online shop facilitates your decision by attractive order prices and has complementary shampoos, care products and hair cosmetics of many renowned brand manufacturers in stock as well!